METARESEARCH AND DEVELOPMENT
Changes in R & D funding and allocation
In a new report on workforce training and technological competitiveness, a task force led by former Commerce Secretary Penny Pritzker describes recent trends in research and development investment. Despite the fact that "total U.S. R&D funding reached an all-time high of nearly $500 billion in 2015, nearly three percent of U.S. gross domestic product," the balance in funding has shifted dramatically to the private sector: "federal funding for R&D, which goes overwhelmingly to basic scientific research, has declined steadily and is now at the lowest level since the early 1950s." One section of the report contains this striking chart: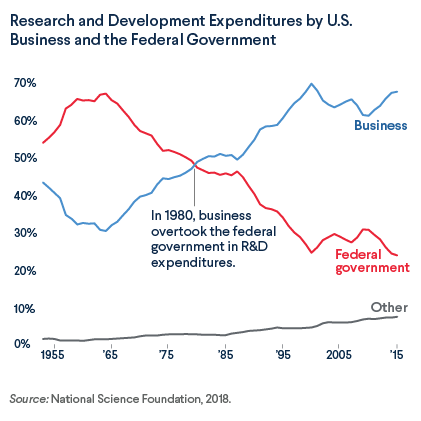 Link to the full report. ht Will
FUNCTIONAL FORMS
Current and future effects of machine learning on economics
SUSAN ATHEY goes into depth on some of the ways in which machine learning is already used in economics, then offers predictions, including an "increase in interdisciplinary research." The paper contains much of interest, such as discussion of new techniques for causal inference:
"The emerging literature in econometrics and statistics combining machine learning and causal inference… is providing insights and theoretical results that are novel from the perspective of both ML and statistics/econometrics.
…
'Outsourcing' model selection to [an] algorithm works very well when the problem is 'simple'–for example, prediction and classification tasks, where performance of a model can be evaluated by looking at goodness of fit in a held-out test set. Those are typically not the problems of greatest interest for empirical researchers in economics, who instead are concerned with causal inference, where there is typically not an unbiased estimate of the ground truth available for comparison. Thus, more work is required to apply an algorithmic approach to economic problems. The recent literature at the intersection of ML and causal inference, reviewed in this paper, has focused on providing the conceptual framework and specific proposals for algorithms that are tailored for causal inference."
Full paper here.
PLURALISTIC VIEW OF EQUALITY
On Tim Scanlon's new book, Why Does Inequality Matter?
In the Boston Review, Martin O'Neill offers context on Scanlon, "one of the most powerful and insightful moral and political philosophers of recent decades." In regard to the book, O'Neill writes: "Scanlon's account of equality isn't simple; it resists capture in a one-line slogan. It is, one might say, frustratingly complicated." Link to the article.
In his conclusion, Scanlon points out that inequality comes in many forms:
"One strength of the pluralistic view of equality that I am offering is that it recognizes the differences between different forms of inequality. In addition to the inequality between the very rich and the rest of us, there is the inequality between the comfortably well off and the very poor, racial inequality, and the various forms of inequality between men and women. These are all troubling, but they are objectionable for different reasons, not simply because they are all violations of a single requirement that the prospects of individuals should be equal (in the absence of some special justification.)
"Racial inequality involves objectionable inequality in status, lack of economic opportunity, unequal provision of education and other important public services, and unequal treatment by the legal system. It also involves a denial of access to effective means of political influence, including in many cases denial of the right to vote. Similarly, gender inequality also involves objectionable inequality in status, and lack of equal economic opportunity, because of discrimination in hiring and in access to education. It also involves, and has been perpetuated by, discrimination that has prevented women from attaining positions of political influence.
"Inequality between the very poor and those who are better off involves the lack of economic opportunity, due to lack of access to education, and inadequate provision of other important public services, such as health care. The poor also suffer from a lack of control over important parts of their lives. They are subject to control by others in their working lives, have little choice of occupation, and suffer from what Jiwei Ci calls agency poverty as well as status poverty. Their interests are also inadequately represented in the political system."
Scanlon emphasizes that these different forms of inequality can be objected to on different bases. "Unequal Outcomes" (the penultimate chapter) and the conclusion are available in draft form here.
+ + +
Each week we highlight research from a graduate student, postdoc, or early-career professor. Send us recommendations: editorial@jainfamilyinstitute.org