WEALTH BEGETS WEALTH
Matt Bruenig's Social Wealth Fund proposal, and responses
Last week, MATT BRUENIG of the PEOPLE'S POLICY PROJECT published the most detailed version of a bold policy he's been writing about for a long time: a Social Wealth Fund for America.
"If we want to get serious about reducing wealth and income inequality, then we have to get serious about breaking up this extreme concentration of wealth.

A dividend-paying social wealth fund provides a natural solution to this problem. It reduces wealth inequality by moving wealth out of the hands of the rich who currently own it and into a collective fund that everyone in the country owns an equal part of. It then reduces income inequality by redirecting capital income away from the affluent and parceling it out as a universal basic dividend that goes out to everyone in society."
The full report contains history on Sweden and Norway, information on the Alaska Permanent Fund, and then a sketch of the "American Solidarity Fund," including funding and governance. The report stakes conceptual ground, and doesn't offer new macroeconomic analysis. Link.
DORMANT IMPACT
On the now-defunct Congressional Office of Technology Assessment
If Sheryl Sandberg and Jack Dorsey had testified before Congress between 1972 and 1995 (rather than this past week), lawmakers' questioning would likely have been informed by research from the Congressional Office of Technology Assessment (OTA), which was tasked with providing "objective and authoritative analysis of complex scientific and technical issues."
A 2015 Room for Debate column in the NEW YORK TIMES reconsiders the now-defunct OTA (1972-1995) and the more than 750 reports it published to Congress. CELIA WEXLER explains that lawmakers used the OTA to make effective policy decisions on a huge variety of technical issues:
"A 1984 study questioning the reliability of polygraph tests led Congress to enact limits on their use by employers. Another report from 1994 helped lawmakers assess the Social Security Administration's computer procurement plan, and ended up saving the government $368 million. OTA reports in 1987 and 1990, which concluded that Pap smears and mammograms for older women could save thousands of lives, were instrumental in extending Medicare reimbursement for these tests."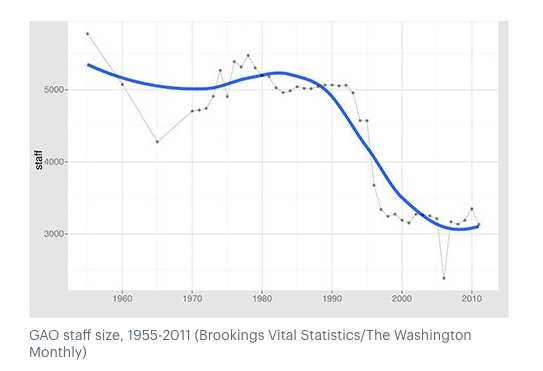 In a 2015 article for THE ATLANTIC, STEVEN TELES and LEE DRUTMAN cite the OTA's closure in arguing that staff shrinkage leaves Congress increasingly isolated from the knowledge and expertise required for prudent oversight and lawmaking: "Specialization is the hand-maiden of economic growth. But as societies become more specialized, they also become harder to comprehend. With each passing year there are more products and services; there are new technologies; there is more relevant scientific knowledge. To legislate intelligently on any subject requires considerably more information and conceptual sophistication than it did at the dawn of the Reagan administration." Link to the article.
ht Will for the links in this spotlight.
The annual Brookings report Vital Statistics on Congress shows that the OTA's 1995 closure is part of a larger trend of diminishing and stagnating employment for Congressional staff. As CURTLYN KRAMER notes, "growing responsibility without corresponding growth in staff means that Congress's members and staff must stretch their resources. The problem is, what Congress has to do to stretch the capacity of their existing workforce further does little to increase real efficiency, and instead forces adaptations that hurt congressional independence." Link.
In a highly-cited 2006 American Political Science Review article, RICHARD HALL and ALAN DEARDORFF argue that the most accurate model of lobbyist behavior treats lobbying as a form of legislative subsidy, capitalizing on shrinking legislative resources: "Direct lobbying… typically is not a strategy for changing legislators' preferences over policies… it is an attempt to subsidize the legislative resources of members who already support the cause of the group… it is akin more to a gift than a trade. It is more like a 'service bureau' than a signaling process." Link.
Princeton maintains an OTA archive of "all the formally issued reports of the Office of Technology Assessment, as well as many background papers and contractor papers – over 100,000 pages of the best available analyses of the scientific and technical policy issues of the past two decades." Link.
+++
Each week we highlight research from a graduate student, postdoc, or early-career professor. Send us recommendations: editorial@jainfamilyinstitute.org