Read the full report here.
In 2006, the government of Ethiopia embarked on a mission to construct half a million condominium apartments over a twenty-year period in its capital of Addis Ababa—a city of only five million. Now, sixteen years later, the initiative has transformed the city's housing infrastructure, economy, and urban character. Built upon a unique and complex history of state land ownership, this massive housing initiative has transformed the way of life for a historically rural, agriculture-driven nation. The Integrated Housing and Development Program (IHDP) and the Grand Addis Housing Authority facilitate homeownership for a broad base of local residents by allocating subsidized condos via randomized lottery. The government is responding to the need for affordable urban housing by directly building, financing, and administering sales of condos.
While other African nations face a similar combination of urbanization and population growth, many such as Tanzania, Senegal, and Kenya, are taking the public-private-partnership approach to large scale housing development, for example by establishing liquidity for lending institutions and building private avenues for mortgage insurance. Those initiatives are largely funded by international financial organizations like the World Bank, and follow models put forward by the "Washington Consensus" that holds private sector growth with public sector cuts as key principles of development.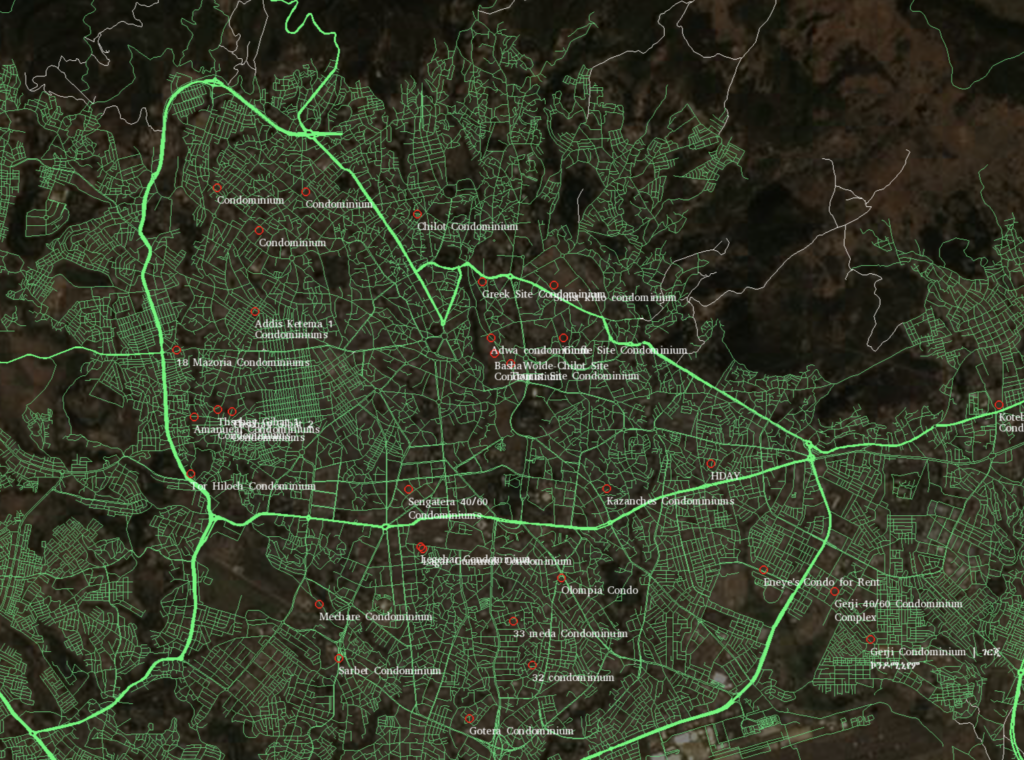 Ethiopia, in contrast, puts public dollars directly into improving housing and asset ownership for mid- and low-income households, directly building resident equity. This unabashed government involvement and investment derives from Ethiopia's modern history of socialist alignment, beginning with the 1974 communist revolution. In that revolution, a military government seized nearly all privately owned lands within two years, under conditions of chaos and violence. One outgrowth of that era is that today, fifty years later, the current Ethiopian state continues to legally own the land, which enables the current speed and scale of public projects. More broadly, Ethiopia's lineage of independence from Western financial institutions and European colonization influences the political potential for public resource use in the present day.
With accelerating industrialization and urbanization, the nation's identity is in flux. The state's development strategy is increasingly aligned with a market ideology, courting foreign direct investment with offers of tax-free economic zones and securing exploitatively low wages in return. Yet the ongoing engagement in state-sponsored development alongside private development has produced tangible benefits for the population during a tumultuous period.
The attached report sketches the contours of this ambitious public housing initiative: the demographic realities driving the need for such a housing program; a modern political history enabling public allocation of land for population needs; and then the program itself—the factors driving the design development of condo units and the price of purchase. Finally, we consider the social implications of condo ownership: the spatial segregation of economic classes, the isolation experienced by residents in the transition, and local design ideas for condominiums that may better suit a collective way of life.
Our report draws primarily on interviews conducted with local residents, urban economists, architects, government engineers, and social workers, during a visit in 2018 during in which we stayed in a condominium community. In the interim period, the world, and Ethiopia in particular, have encountered challenging times. Yet the housing program churns along—20,000 new apartment owners picked up their keys in March 2021. For the largely rural people of Ethiopia, it's like stepping into a new world.
The full report, the first in JFI's Social Wealth portfolio, can be found here. On Friday, March 25, join JFI and the authors for a discussion on the report's key findings and implications for future development. Register here.